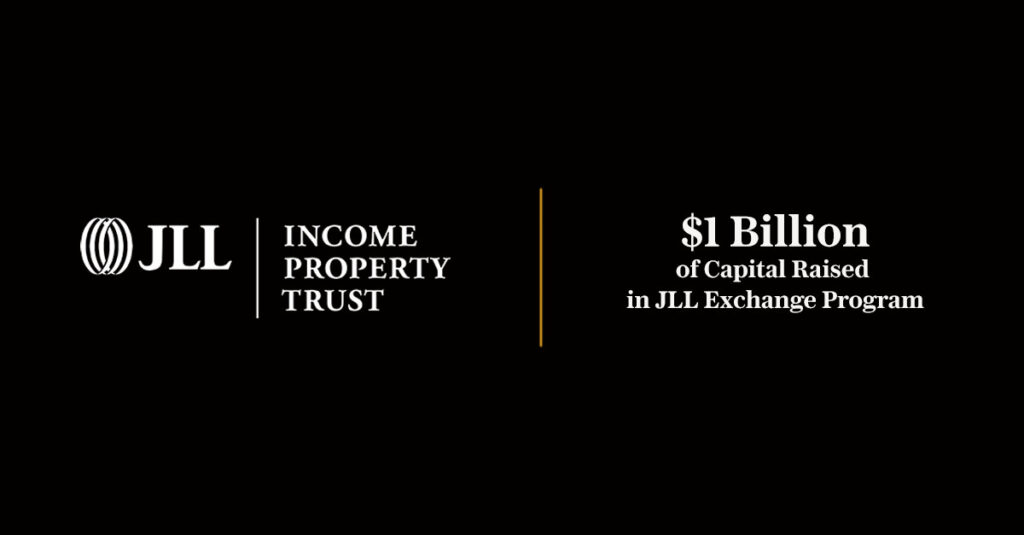 Chicago (June 6, 2023) – JLL Income Property Trust, an institutionally managed daily NAV REIT (NASDAQ: ZIPTAX; ZIPTMX; ZIPIAX; ZIPIMX) with more than $7 billion in portfolio assets, today announced it has attracted more than $1 billion through JLL Exchange ("JLLX"), its 1031 like kind real estate exchange program..
The JLLX platform is a sophisticated tax deferral and estate planning tool that utilizes both a traditional 1031 exchange along with a potential 721 UPREIT exchange. The JLLX program provides institutional quality properties through its unique Delaware Statutory Trust ("DST") structure, where owners of appreciated investment real estate can conduct a 1031 exchange by reinvesting proceeds from the sale of their real estate to acquire interests in the DST. After a required holding period, DST properties may be reacquired in exchange for interests in JLL Income Property Trust's UPREIT structure through a 721 exchange.
JLL Exchange provides investors the opportunity to reinvest proceeds from their sale of real estate held for investment into a broadly diversified, institutionally managed, perpetual NAV REIT, while also deferring taxes, maintaining their allocation to real estate and enjoying a wide range of estate planning benefits. JLL Income Property Trust benefits by attracting strategically aligned long-term investors through the 1031 exchange market.
Since its inception in 2020, JLLX has provided investors with more than $1 billion of DST interests through 18 distinct 1031 exchange offerings ranging from single property DSTs to diversified, multi-property portfolios. JLL Income Property Trust has also completed 6 full-cycle 721 UPREIT transactions totaling nearly $470 million. In a full-cycle UPREIT, real estate is exchanged on a tax-deferred basis for partnership interests in JLL Income Property Trust, offering the potential for owners of the exchanged property to achieve meaningful diversification, current income and the opportunity to realize long-term appreciation.
"We are extremely pleased by the market's strong, sustained response to the JLLX platform," said Allan Swaringen, President and CEO of JLL Income Property Trust. "Financial advisors have recognized the compelling potential tax and estate planning benefits from the JLLX offerings, and view it as a way to provide more holistic financial planning for their high net worth property owner clients."
"By offering higher-quality, institutional, DST solutions, competitive fees and institutional management, JLLX has established itself as a preferred 1031 exchange solution for high net worth and ultra-high net worth investors," said Drew Dornbusch, Head of JLL Exchange.
For more information on JLL Income Property Trust, please visit our website at www.jllipt.com.
About JLL Exchange
The JLL Exchange program offers private placements through the sale of interests in Delaware Statutory Trusts (DSTs) holding real properties. For more information, visit www.jllexchange.com.
About JLL Income Property Trust, Inc. ((NASDAQ: ZIPTAX; ZIPTMX; ZIPIAX; ZIPIMX)
JLL Income Property Trust, Inc. is a daily NAV REIT that owns and manages a diversified portfolio of high quality, income-producing residential, industrial, grocery-anchored retail, healthcare and office properties located in the United States. JLL Income Property Trust expects to further diversify its real estate portfolio over time, including on a global basis. For more information, visit www.jllipt.com.
About LaSalle Investment Management
LaSalle Investment Management is one of the world's leading real estate investment managers. On a global basis, LaSalle manages approximately $78 billion of assets in private and public real estate property and debt investments as of Q1 2023. LaSalle's diverse client base includes public and private pension funds, insurance companies, governments, corporations, endowments and private individuals from across the globe. LaSalle sponsors a complete range of investment vehicles including separate accounts, open- and closed-end funds, public securities and entity-level investments. For more information, please visit http://www.lasalle.com.
Valuations, Forward Looking Statements and Future Results
This press release may contain forward-looking statements with respect to JLL Income Property Trust. Forward-looking statements are statements that are not descriptions of historical facts and include statements regarding management's intentions, beliefs, expectations, research, market analysis, plans or predictions of the future. Because such statements include risks, uncertainties and contingencies, actual results may differ materially from those expressed or implied by such forward-looking statements. Past performance is not indicative of future results and there can be no assurance that future dividends will be paid.
Company news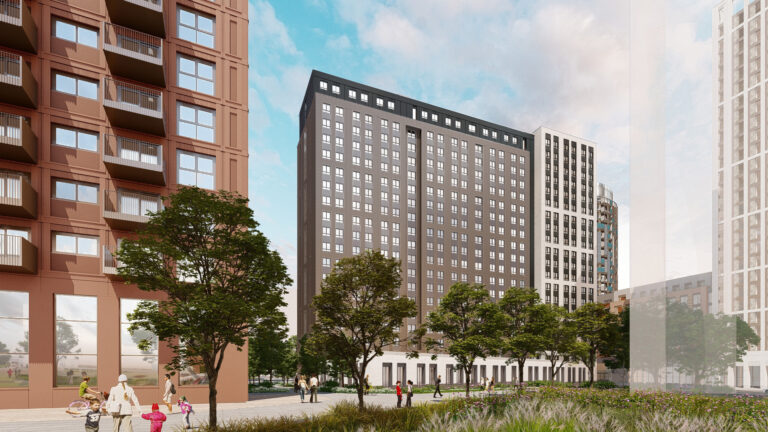 May 10, 2023
LaSalle provides £130 million green loan facility to Greystar for student housing
Loan will support the development of a 770-bed facility in Wembley, London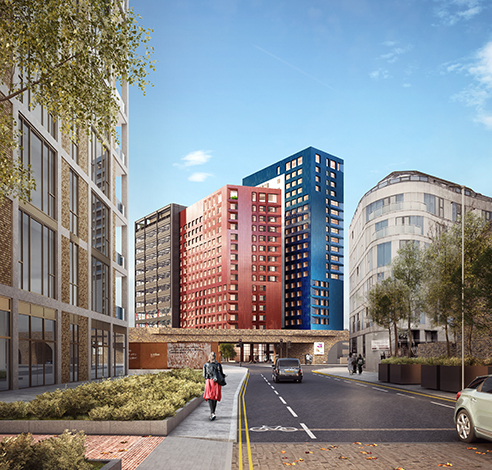 Apr 12, 2023
LaSalle's European senior-secured debt strategies to include sustainable lending following €350 million green-loan drive

Apr 27, 2022
LaSalle and NUMA Group launch €500m pan-European urban hotel portfolio strategy
LaSalle Investment Management is launching a €500m pan-European urban hotel aggregation strategy via a strategic partnership with NUMA Group.
No results found