An unrelenting wave of macro news amidst record-breaking heat has carried through all of 2022 to the start of August. With persistent high inflation readings (p.13), energy price volatility and supply disruption (p. 20), interest rate hikes (p. 4), bear equity markets (p. 8), heightened recession risk (p. 3), and VC capital slowing (p. 7) – the post-COVID recovery cycle is at risk.
---
Recently published books that we're reading – and recommending – this summer delve into energy geopolitics, climate change impacts, and the history of real estate and investments.
---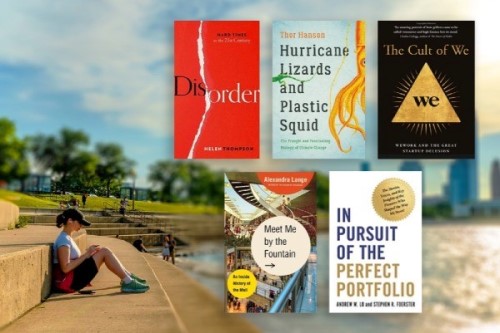 Yet August, with its summer festivals and family holidays for many, is a good month to put the frenetic pace of change into perspective. Many of the indices, prices, and events summarized in our macro indicators deck reveal just the tip of the iceberg, with a deeper, complex story hidden from view. Often only a longer form, like a book, can do justice to these stories.
Recently published books that we're reading – and recommending – this summer delve into energy geopolitics, climate change impacts, and the history of real estate and investments. Helen Thompson's Disorder: Hard Times in the 21st Century (Feb. 2022) traces how historic energy policy contributed to today's geopolitical fractures, in Europe and beyond.In asimilar vein, Ian Bremmer's Power of Crisis (May 2022) looks at how leaders are responding to three big crises facing the world: health emergencies, climate change, and the rise of artificial intelligence (AI). The UK, Central China, and Texas have sweltered through record temperatures over the last month and the continued backdrop of virulent COVID strains, like BA.5, continue to show how these crises are not mere abstractions but are a recurring part of modern life.
Concrete examples of climate impacts, like how reptiles are trying to cope with more frequent Caribbean storms, abound in Thor Hanson's excellent book, Hurricane Lizards and Plastic Squid (Sept. 2021). Hansen delves into a new field of climate change biology. He describes the long sweep of natural time as one of "punctuated equilibrium." This consists of "bursts of rapid activity (punctuations) followed by long periods of stability." This pattern also aptly describes economic and real estate cycles, with current turmoil upsetting the post-GFC equilibrium.
Turning to real estate – and some quite recent history – The Cult of We (July 2021) by Eliot Brown and Maureen Farrell – lifts the curtain on the madcap history of WeWork's founding by Adam Neumann. The writers focus on the hubris that led to the downfall of "We", although the recent reset and rebound of many shared office concepts is beyond their scope. Alexandra Lange's Meet Me by the Fountain focuses on the shopping mall – and how it "has changed and changed again" from futuristic, to ubiquitous, to pandemic-induced redevelopments (June 2022). In Land (Jan. 2021), Simon Winchester links a variety of tales on a theme of land as "the only thing on earth
that lasts."
And, in a book tailored for investors, In Pursuit of the Perfect Portfolio (Aug. 2021), Lo and Foerster describe how the ideas of Markowitz, Bogle, Shiller, Siegel, and six other investment visionaries developed the frameworks that have taught us to build better portfolios.
We also invite you to read our Mid-Year ISA, released last month, laying out our global real estate investment recommendations at this inflection point, with a particular focus on inflation protection, strategies to weather shifting monetary policy, and the ESG revolution in real estate. In addition, we have published a new white paper this month on the Demographics of Aging and its impact on real estate.